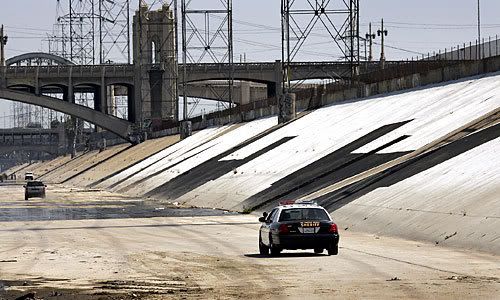 7 alleged members of L.A. tagging crew arrested -LA Times

Revok had this to say on the subject:

"WHILE CHILDREN ARE BEING ABUSED, WOMEN ARE BEING RAPED… THE SHERIFFS DEPT IS SPENDING YOUR TAX DOLLARS CHASING AFTER PEOPLE WHO SUPPOSEDLY PAINTED SOMETHING ON THE WALLS OF THE MOST POLLUTED, NEGLECTED, OUT OF THE WAY LOCATION IN THE CITY… THE L.A. RIVER (AKA THE ASSHOLE OF THE UNIVERSE).

MILLIONS OF $$$ TO CLEAN IT UP? -WHY?, WHATS THE FUCKING POINT!?… ITS NOT BOTHERING ANYBODY. CHILDREN NEED BOOKS AND COMPUTERS, TEACHERS NEED BETTER PAY, AND HALF OF THE CITY IS WITHOUT HEALTHCARE OR ACCESS TO DECENT MEDICAL FACILITIES… WHY WOULD YOU EVEN CONSIDER WASTING 10$ PAINTING OVER SOMETHING SOMEWHERE NOBODY CARES ABOUT….?"

Good Point.